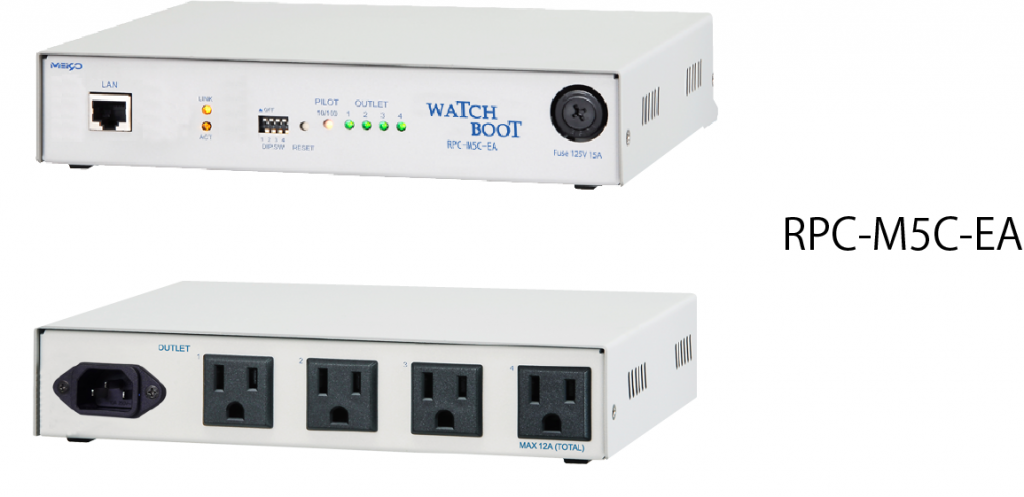 WATCH BOOT RPC-M5C-EA
Rack-Mountable 19 inch 1U (half size)
4x NEMA 5-15R outlets
Suitable for monitoring and restoring IT equipment such as:

digital signage
wireless routers
WEB cameras

Detects when devices are frozen and automatically restarts those devices
Shut down function can shut down the OS for PC's and servers
Features
Control from 1 to 4 power supplies
1500W maximum
Automatic power control function with unique freeze detection capability
Remote power control by LAN / WAN
Remote power control by Email
Notification by email
Timer power control by weekly schedule
FCC and UL approvals
Optimal screen display on Mobile terminal
US Time ZONE selectable (Daylight Savings Time compatible)
Frozen Devices Automatically Rebooted By Heartbeat Monitoring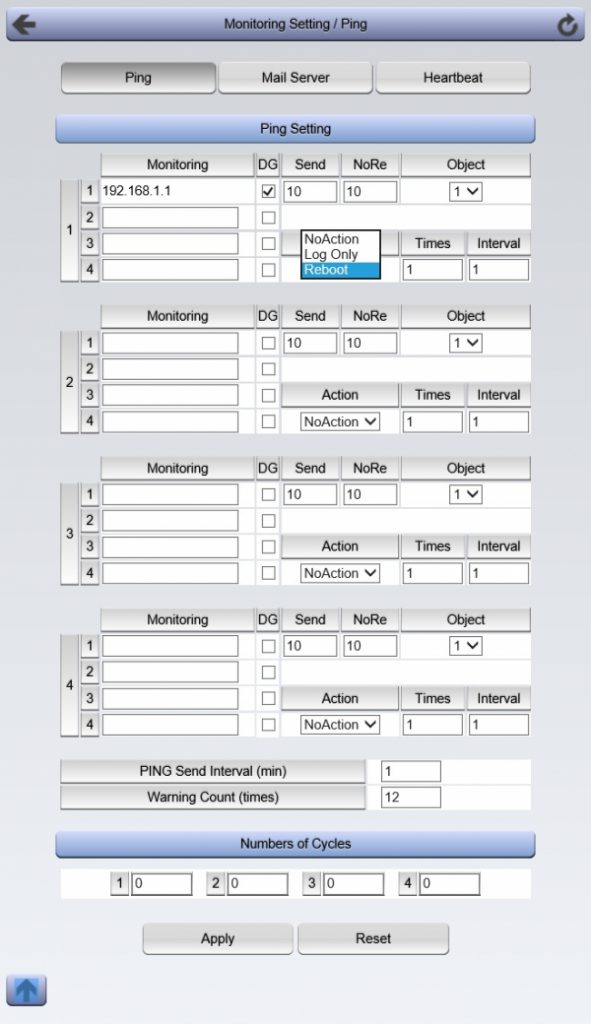 While monitoring heartbeat from network video recorders,
a power supply reboot is possible.
This feature, as well as automatic reboot,
will allow the ON / OFF of the power supply according to the presence of a heartbeat.
If you use the Meikyo Heartbeat Application,
you can check the CPU operation status and control the heartbeat.
A frozen device can be detected and restarted.
It is recommended to perform OS shutdown before reboot.
Frozen Devices Will Automatically Reboot By Using Ping Monitoring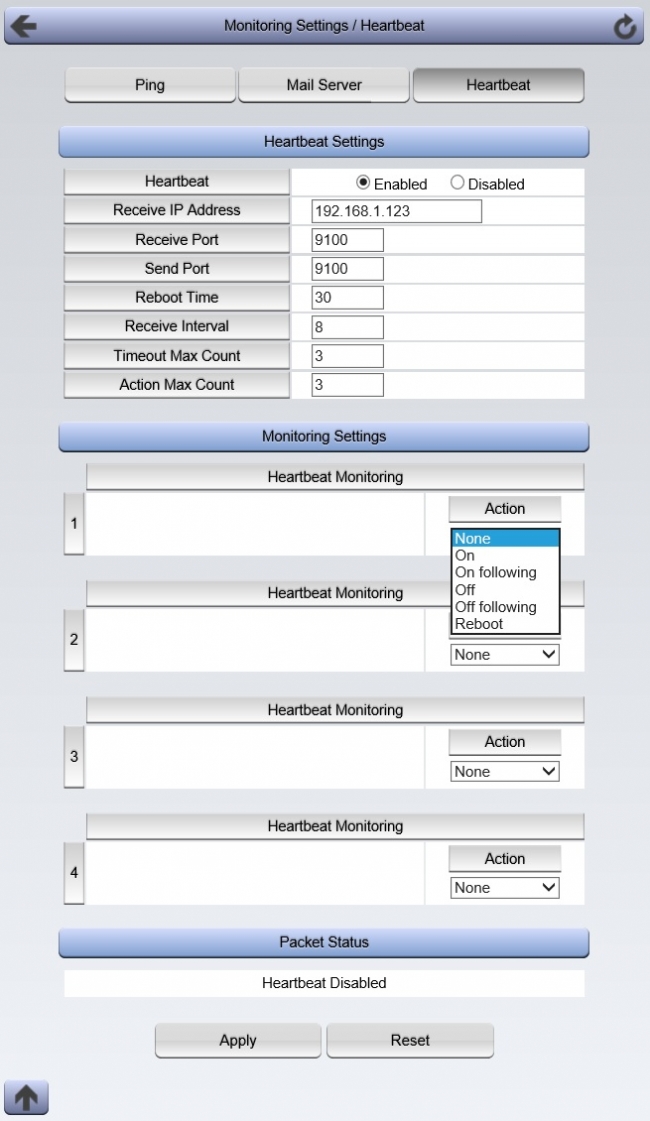 Monitors the health of devices by responding to ICMP packets.
If no response continues,
the device is determined to be frozen and the power output is turned OFF / ON and the device is automatically rebooted.
You can set up to four IP addresses to monitor for each OUTLET.
Up to 20 Schedule Controls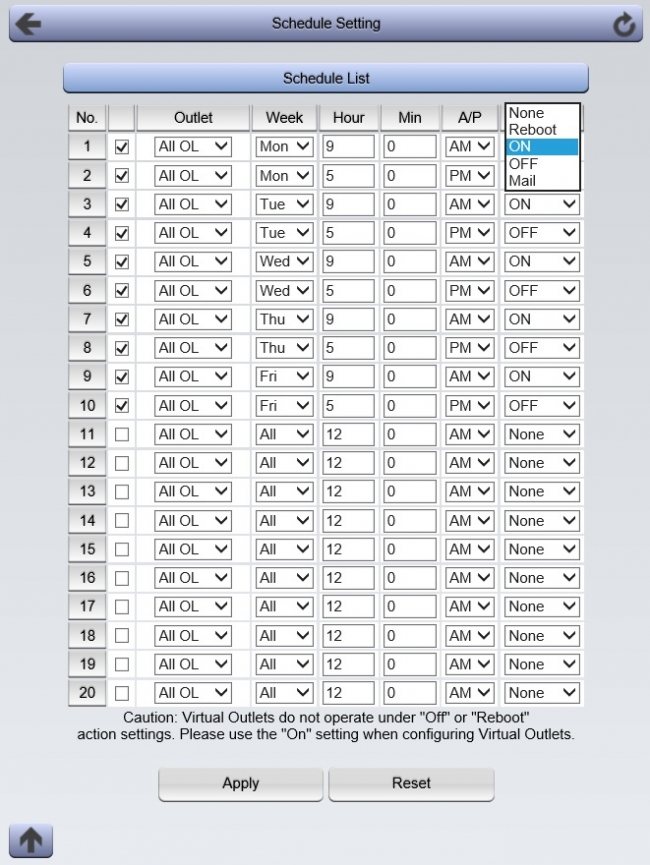 There is the ability to set up to 20 schedules at week level.
It is possible to schedule Power ON / OFF and reboot.
If you select the scheduled email,
an email will be sent periodically to the address set as the notification destination in advance.
It can be used as the health function of the DX.
In order to control the schedule,
it is necessary to set the NTP server and obtain the time.
Shut down the OS when the power is turned off.
Abundant Power Control Functions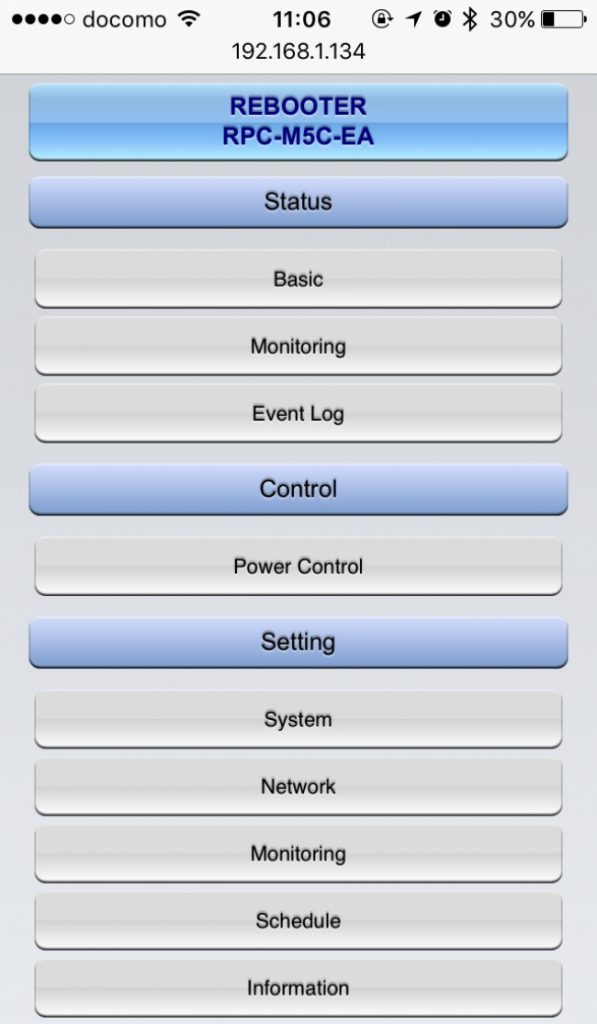 In addition to automatic power control by various monitoring functions,
this model offers remote power control by various methods such as http, telnet, text mail and direct WEB commands.
Also, when accessing the web from mobile devices,
the screen will be displayed optimally according to the terminal.
Online Updates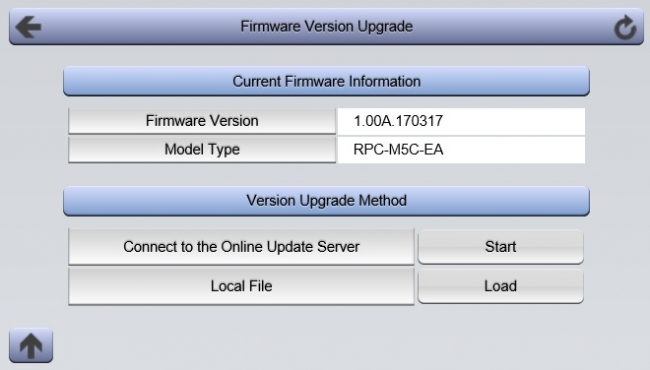 Version upgrade is now available online.
If you can connect to the Internet, you can update to the new version published on the Home Page.
Of course, it is also possible to download the upgrade file from the Home Page in advance so then perform the upgrade locally.
Shutdown Function
By writing a script for the Rebooter, you can Telnet to the server and execute the shutdown command.
(The server software for Windows is also connected.)