Remote Work Has Increased Significantly During the Coronavirus Crisis
During this remote work era, more and more people are using remote access tools for telework to connect to their office computers from home.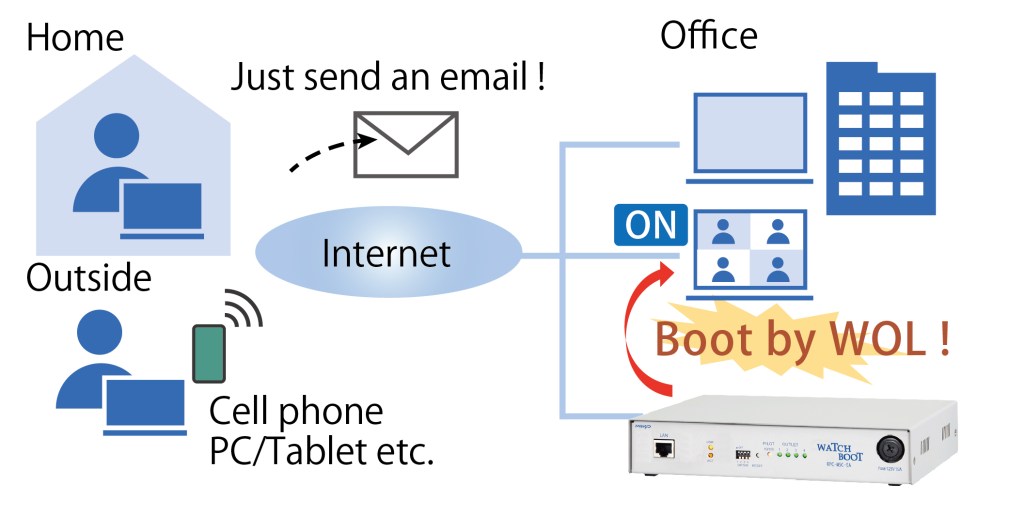 In order to access the corporate computer, you may need to request a coworker at the office to power on your computer.
Leaving the computer always ON, or using the Wake-on-LAN function of the router, may pose some security concerns for your company.
If this is the case, and there is nobody in the office, then you have a major challenge.
If you have a REBOOTER,
you can start your work PC or reboot it just by sending an email
The remote PC operation will be even more secure and convenient.
The REBOOTER is a network-compatible power control device which allows you to remotely control the power supply of your company PC, making your remote work environment more convenient and stable.
An additional feature is that if the computer is detected to be frozen, the REBOOTER will automatically restart.
The WATCHBOOT (RPC-M5C-EA) can start up to 12 PCs with WoL simply by sending an e-mail.
You can also use the power control function to turn ON and OFF up to four outlets.
By using the email control function, you do not need the complicated settings which might create a security issue, such as, static IP, DDNS, and NAPT, which are usually required for remote control.